What Is Periodontal Disease Treatment?
Numerous types of oral conditions, including disease, could potentially affect a person's general wellness. Often known as disease, disease is a multi-stage oral condition that affects a large number of Americans each year. Caused by dangerous oral bacteria, gum disease is regarded as a main source of tooth loss for people over 35 years old and has been linked to several general health conditions. These bacteria inhabit tartar deposits that collect on the enamel and give off toxins that eventually start to degrade the gumline, bone, and various other structures that keep each tooth in the correct position.
Periodontal disease is basically classified into three distinct levels. The first stage of periodontal disease is gingivitis, which is followed by periodontitis. The latest and most serious level of the disease is known as advanced periodontitis. Detecting and managing gum disease immediately can help end the damage and maintain your general wellness. have signs like sensitive or red gums, bleeding while brushing and flossing, or chronic bad breath (often known as halitosis), periodontal disease could be impacting dental wellness.
Dr. Dentist Two at DentalWorks - Hyperlingo provides a range of efficient options to treat gum disease at any phase. Call our office in City, ST at your earliest convenience to schedule a biannual routine dental examination and learn about the ways we address periodontal disease.
Reviews
"Very good experience. DR. CHAUHAN was so compassionate and attentive to my requests concerning my plan of care, scheduling, fear, etc. My first visit was an emergency visit and I was in excruciating pain. My pain was quickly addressed and alleviated. I never once felt judged or looked down upon regarding the status of my teeth which is HUGE to me! Thank you staff and especially DR. CHAUHAN for everything you guys did for me. I am looking forward to getting my smile back on track with you guys!"
- S.W. /
Google /
Mar 15, 2020
"Staff and doctor 👨‍⚕️ were very very nice, made me very comfortable I loved love love Mariam Kalit , she is patience, kind, honest, very very thorough, my husband love her also.... The staff is very kind and professional they take their time too explain your insurance etc... thank you all so so much!!!!!"
- S.P. /
Google /
Mar 12, 2020
"They all are very professional. Our whole family is seeing by Dr. Chauhan and hygienist Erin for the past 4 yrs. All are doing an excellent job, even the front office girls too. No hidden fees or any other billing issues. Easy to get an appointment also. I have to shout out to Erin the hygienist for taking care of my kids they are not scared to go to dentist they love their hygienist. Keep up the good work."
- K.A. /
Google /
Feb 24, 2020
"I've been going to DentalWorks for over a year now for my orthodontics. The staff and the doctor there is very good and attentive, and even though orthodontics by nature is going to have some uncomfortable times, she and the staff has been very good about minimizing pain and discomfort for me. She is very cautious and deliberate in trying hard not to do any work that's not absolutely necessary, such as removing teeth etc. every visit they get me in and out within an hour or less."
- C.5. /
Google /
Feb 02, 2020
"Everything about this office is great! the staff is friendly and helpful!"
- J.A. /
Google /
Dec 28, 2019
Previous
Next
Candidates for Periodontal Care
Patients who could benefit from treatment for periodontal disease those who experience even minor gum inflammation and bleeding anyone with missing teeth and severe damage to the neighboring oral structures. When periodontal disease is spotted and addressed in its early stages, individuals have greater potential to mitigate the disorder's damaging symptoms. Many adults experience bleeding gums or inflammation, which is sometimes mistaken for ordinary. Despite this, bleeding and other indications of gum disease are not typical and must be looked at as early as possible by or another professional on their staff.
We encourage individuals to arrange a consultation at DentalWorks - Hyperlingo if they have one or more of the possible symptoms of gum disease. These symptoms may include inflamed, discolored, or painful gums, as well as bleeding while toothbrushing or flossing. Long-term oral malodor or a vile taste in a person's mouth could be an indicator too. Individuals suffering from advanced gum disease might notice shifting teeth, greater discomfort, a diminished gumline, or discharge in the mouth.
How Is Gum Disease Treated?
Diagnosing and treating gum disease as soon as possible is necessary to maintain the condition of your teeth. To know whether gum disease is affecting your dental wellness, our staff will utilize a tiny device to measure the gaps separating your gumline and tooth roots. If these pockets exceed 3 millimeters in depth, it is usually a cause for concern. Digital x-rays may also help to assess the amount of bone surrounding each tooth and learn if a later phase of periodontal disease is present.
At DentalWorks - Hyperlingo, we use the latest tests to diagnose any phase of periodontal disease and will develop the correct plan for care. The starting stage of periodontal diseasegingivitis is frequently treated with a deep cleaning and enhanced at-home dental hygiene. To treat periodontitis, the second phase of periodontal disease, (sometimes known as) therapy is performed every few months and combined with locally applied antibiotics. Advanced-phase instances of periodontal disease may be better treated via a surgical procedure, including osseous surgery or jawbone grafting procedures.
Keeping up with an effective dental care routine is essential once your gum disease is treated. At your appointment, and their team will provide you with effective tips to improve your regular toothbrushing techniques and care for your oral structures. We will then supply you with detailed after-care information to you heal after your procedure quickly. Gum maintenance cleanings, which are vital in you restore your oral wellness and in hindering active periodontal disease from developing, are usually done once every few months. These treatments at DentalWorks - Hyperlingo take the place of biannual dental cleanings.
Is Periodontal Treatment Covered by Insurance?
Dental coverage for periodontal treatment could vary by your plan. Our financial personnel will get in touch with your policy provider to learn more about your benefits before your dentist starts your care. 's staff at DentalWorks - Hyperlingo works hard to make periodontal treatment as accessible as possible and welcomes several payment methods, such as in-house patient financing, to any additional portion fit well within your financial plan.
#1: Why is flossing your teeth so important?
Flossing your teeth twice a day helps to prevent tooth decay, or cavities. Regular use of dental floss can also reduce the risk of developing gum, or periodontal disease by removing food particles as well as a sticky substance called plaque that builds up on your teeth.
#2: What is gum/periodontal disease?
Periodontal or gum disease is an infection of the tissues that hold the teeth in place. It is caused by poor brushing and flossing habits that enable a sticky film of bacteria called plaque to build up on the teeth and harden. Periodontal disease can lead to swollen and bleeding gums, issues with chewing, and tooth loss.
#3: What are the symptoms of gum/periodontal disease?
The symptoms of gum disease are not always obvious until it has progressed to a more advanced stage. Consider seeing your dental provider if you suspect that you have any of the following symptoms associated with gum disease:
Swollen, red, or tender gums

Pain in your mouth

Bleeding when brushing or flossing your teeth

Gums have receded or pulled away from your teeth

Pus between your gums and teeth

Mouth sores

Chronic bad breath

Loose or separating teeth

Teeth that no longer fit together when you bite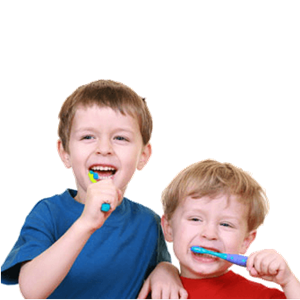 Stop Gum Disease in Its Tracks
Because of our modern dental care techniques, DentalWorks - Hyperlingo can help patients suffering from gum disease receive beneficial solutions and restore the health of their smile. If you have one or more signs related to gum disease, we advise you to get in touch with our City, ST office as soon as possible. Cosmetic Dentist Dr. Dentist Two and their team offer a number of options to take care of every stage of gum disease.
Related Procedures
Related Posts