Dentistry for Children, Teens, and Adults
Attaining is crucial at every stage of life, from a patient's early years through the mature years. DentalWorks - Hyperlingo performs numerous helpful family dentistry techniques to you and your household see the benefits of lasting dental health at. If your family members need child-centered dental care, corrective options, aesthetic oral procedures, or geriatric care, our office offers exceptional treatments you can depend on. During your family's oral health checkups, Dr. Dentist Two will evaluate their teeth, gum tissues, and jaw to diagnose any dental concerns that could be weighing down on their smiles. They can then discuss the best solutions to take care of their unique dental wellness demands. Call our City, ST office at your earliest convenience to set up comprehensive visits or biannual teeth cleanings for every relative in your family.
Reviews
"Very good experience. DR. CHAUHAN was so compassionate and attentive to my requests concerning my plan of care, scheduling, fear, etc. My first visit was an emergency visit and I was in excruciating pain. My pain was quickly addressed and alleviated. I never once felt judged or looked down upon regarding the status of my teeth which is HUGE to me! Thank you staff and especially DR. CHAUHAN for everything you guys did for me. I am looking forward to getting my smile back on track with you guys!"
- S.W. /
Google /
Mar 15, 2020
"Staff and doctor 👨‍⚕️ were very very nice, made me very comfortable I loved love love Mariam Kalit , she is patience, kind, honest, very very thorough, my husband love her also.... The staff is very kind and professional they take their time too explain your insurance etc... thank you all so so much!!!!!"
- S.P. /
Google /
Mar 12, 2020
"They all are very professional. Our whole family is seeing by Dr. Chauhan and hygienist Erin for the past 4 yrs. All are doing an excellent job, even the front office girls too. No hidden fees or any other billing issues. Easy to get an appointment also. I have to shout out to Erin the hygienist for taking care of my kids they are not scared to go to dentist they love their hygienist. Keep up the good work."
- K.A. /
Google /
Feb 24, 2020
"I've been going to DentalWorks for over a year now for my orthodontics. The staff and the doctor there is very good and attentive, and even though orthodontics by nature is going to have some uncomfortable times, she and the staff has been very good about minimizing pain and discomfort for me. She is very cautious and deliberate in trying hard not to do any work that's not absolutely necessary, such as removing teeth etc. every visit they get me in and out within an hour or less."
- C.5. /
Google /
Feb 02, 2020
"Everything about this office is great! the staff is friendly and helpful!"
- J.A. /
Google /
Dec 28, 2019
Previous
Next
Candidates for Family Dentistry
People in any stage of life need to have regular oral cleanings and exams no less often than twice per year, or more often if they have any minor or severe discomfort or sudden or prolonged problems. adults their infants attend their initial dental visit before turning one, as recommended by the (). When oral problemslike periodontal disease and cavities are identified early, less-invasive solutions will often be more effectual. At DentalWorks - Hyperlingo, our team is happy to offer many family dentistry services for individuals of all ages and stages of life, such as babies, kids, teenagers, men, women, expecting women, and older individuals.
What to Expect During Your Visit
Routine dental appointments should generally include an exam and a professional teeth cleaning. At these annual visits, our team will keep an eye out for dental caries, periodontal disease, TMJ problems, and any indications of other irregularities. We can then review some possible treatment options. Our numerous family dentistry services are designed to meet an expansive variety of needs, from general oral solutions, like dental sealants, to dental fillings and crowns or bridges. Oral-therapy demands shift during an individual's younger, adolescent, adult, and older phases of life. has a detailed understanding of the dental wellness issues that form during these years and will communicate with your relatives to help all of you receive the upsides of a healthy smile.
Maintain Your Oral Health
At the end of your annual exam, and our team can help you form a personalized care program to boost and sustain your family's dental wellness. A major to your dental health is to develop a proper oral cleaning regimen between appointments that consists of precise brushing and flossing at home each day. A member of our team can go over efficient toothbrushing techniques and provide you with pointers about caring for regions that may need extra attention. Yearly visits to DentalWorks - Hyperlingo our team look after your family's dental health and catch hidden oral disorders before they progress to worse concerns.
Insurance Coverage for Family Dentistry
Most family oral treatments are paid for by insurance. To determine your coverage, our business team will assess your unique plan and go over an estimate of your leftover costs. DentalWorks - Hyperlingo wants to make oral services accessible for each individual and takes a variety of payment methods, including dental payment programs.
What is a cavity?
Cavities begin as decay caused by bacteria in the mouth left by sugar-filled drinks and food, poor oral hygiene, or not visiting your dentist on a regular basis. These factors create a small hole, or cavity, in the enamel of the tooth. If left untreated, this small hole can turn into a big problem.
What causes cavities?
Harmful bacteria in the mouth, usually left by sugary drinks and foods, turn into a substance called plaque when not removed in a timely manner. The acid in the plaque erodes the tooth, weakening it, and causing a hole, or cavity in the enamel.
Factors that raise the chance of developing a cavity include:
Not brushing and flossing your teeth twice a day

Not visiting your dentist for an exam and cleaning twice a year

Tooth shape

A high gumline

Dry mouth

Consuming excessive sugar (soda, candy, juices)
What are the symptoms of a cavity?
The symptoms of cavities vary depending on how large the cavity is and where it is located. The symptoms of a cavity include:
A toothache or pain in the tooth

Sensitivity in the tooth to hot or cold temperatures

Mild to sharp pain when eating or drinking

Visible holes in the tooth

Stains that are brown, black, or white in color on the tooth's surface

Pain when you bite down
How are cavities treated?
A cavity is usually removed from the tooth and the resulting hole is protected with a filling. If the cavity is too large for a filling, you may need an alternative treatment such as a dental crown, custom onlay, inlay, or root canal. If you do get cavities frequently, ask your dentist about preventive options such as fluoride treatments and dental sealants.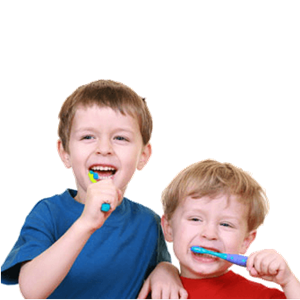 Quality Care For Your Family's Smiles
Shielding your family's smiles against serious oral conditions is necessary at each stage of life. At DentalWorks - Hyperlingo, our team is thrilled to offer personalized, effective solutions to boost the oral wellness of younger patients, adolescents, and adults of all ages. Hear more about the perks of family oral care by scheduling a visit with Dr. Dentist Two at our City, ST facility soon.
Related Procedures
Related Posts