The Importance of Dental Exams
Attending annual dental evaluations you take a proactive step to sustain the health of your smile. An annual dental exam at DentalWorks - Hyperlingo assesses tooth caries, gum disease, oral cancer, and various other issues that may be harming your dental and overall health. Generally performed during biannual teeth cleaning appointments, dental exams Dr. Dentist Two assess the teeth, gum line, arch alignment, jaw, and other oral features and might allow for the early identification and treatment of dental disorders. To maintain the health and beauty of your smile, arrange a routine oral examination at our City, ST practice today!
Around 50,000 U.S. citizens are affected by oral cancer each year. Even so, the condition might be easily treatable if diagnosed early. Oral cancer is known as a fast-developing formation of cells that might take place inside of or throughout the, like on the, mid-face, tongue, salivary glands, jawbone, and the neck, along with other oral regions. carries out an oral cancer evaluation at every yearly exam to detect nonmalignant cells, malignant growths, or various other irregular areas. The normal signs of oral pathology are abrasions, masses, convex or coarse lesions, and discolored patches of skin. Any areas in question may be removed and biopsied, or you might be recommended to an oral cancer doctor for thorough treatment.
Reviews
"Very good experience. DR. CHAUHAN was so compassionate and attentive to my requests concerning my plan of care, scheduling, fear, etc. My first visit was an emergency visit and I was in excruciating pain. My pain was quickly addressed and alleviated. I never once felt judged or looked down upon regarding the status of my teeth which is HUGE to me! Thank you staff and especially DR. CHAUHAN for everything you guys did for me. I am looking forward to getting my smile back on track with you guys!"
- S.W. /
Google /
Mar 15, 2020
"Staff and doctor 👨‍⚕️ were very very nice, made me very comfortable I loved love love Mariam Kalit , she is patience, kind, honest, very very thorough, my husband love her also.... The staff is very kind and professional they take their time too explain your insurance etc... thank you all so so much!!!!!"
- S.P. /
Google /
Mar 12, 2020
"Great place!!! Excellent staffing!!!"
- J.C. /
Google /
Mar 07, 2020
"They all are very professional. Our whole family is seeing by Dr. Chauhan and hygienist Erin for the past 4 yrs. All are doing an excellent job, even the front office girls too. No hidden fees or any other billing issues. Easy to get an appointment also. I have to shout out to Erin the hygienist for taking care of my kids they are not scared to go to dentist they love their hygienist. Keep up the good work."
- K.A. /
Google /
Feb 24, 2020
"I've been going to DentalWorks for over a year now for my orthodontics. The staff and the doctor there is very good and attentive, and even though orthodontics by nature is going to have some uncomfortable times, she and the staff has been very good about minimizing pain and discomfort for me. She is very cautious and deliberate in trying hard not to do any work that's not absolutely necessary, such as removing teeth etc. every visit they get me in and out within an hour or less."
- C.5. /
Google /
Feb 02, 2020
Previous
Next
Who Should Get Dental Exams?
City, ST residents of any age should be attending oral evaluations no less than once annually for general care. Dental exams may also be performed if needed to assess dental sensitivity, trauma, or other localized concerns that could form between cleanings. Periodontal diseasethe primary factor in tooth loss and oral caries may not cause serious symptoms to manifest until the more progressed phases. When oral conditions are detected early, our dental professionals can generally offer more comprehensive procedures for treatment.
The () all children go to a dental practitioner before their first birthday. For children at a young age, our staff can focus on several issueslike the emergence of teeth and thumb-sucking and guide you in caring for your little one's teeth and gum tissues as their jawbone tissues develop. Annual comprehensive dental exams might help your young ones establish effective oral habits at a young age and make sure they enjoy healthy smiles for many years.
What To Expect During Your Visit
Dental exams at DentalWorks - Hyperlingo begin with a review of your medical record. We can also talk with you about any health concerns or aesthetic smile goals you have to learn more about your general oral wellness. At particular annual exams, a series of digital x-rays could be ordered to grant improved awareness of the wellness of your teeth and oral bone structures. They could then screen for oral cancer, check the balance of your arches and temporomandibular joints, and monitor your teeth for irregularities, as well as the wear of any dental appliances. A screening might also be done to look for potential areas of disease.
Developing effective dental health habitslike regular brushing twice a day, as well as flossing no less than once each day can help to reduce your likelihood for having cavities and periodontal disease. conducts routine dental exams no less than once per year, generally during one of a patient's six-month professional dental cleaning appointments; however, we might perform exams more frequently for individuals who have particular dental wellness problems. Our practice performs a diverse range of effective services, like state-of-the-art dental fillings, crowns, and porcelain veneers, to help meet your personal smile goals. If required, our staff may help you plan checkup visits.
Insurance Coverage for Exams
Oral exams are thought of as preventive solutions; this means that they are usually covered by insurance plans. Prior to your visit, a professional on our financial staff will look over your personal plan and contact you with any potential extra costs. DentalWorks - Hyperlingo is thrilled to provide a number of simple payment options to ensure that all individuals can receive effective, affordable treatment.
Why does my tooth hurt?
Toothaches are caused by a number of issues. The most common cause, cavities, or tooth decay, create a painful environment around or inside the affected tooth. Some patients may have an abscess, or an infection of the tooth root, which can cause excruciating pain.
How long should I wait to see a dentist if my tooth hurts?
A toothache typically develops from an infection or damage somewhere inside or around a tooth. Treating tooth pain with pain-relieving medication might provide temporary relief. We recommend seeing the dentist if your toothache lasts longer than a day, because your condition can worsen if left untreated.
How is a toothache treated?
After an examination, the dentist may take x-rays to further decipher the cause of your toothache. Once a diagnosis is reached, a treatment plan will be prescribed to address the toothache. These treatments may include antibiotics and fillings to more in-depth procedures, like a root canal or tooth extraction.
How can I prevent a toothache?
The best way to prevent a toothache is by maintaining good oral hygiene practices. Brush your teeth gently twice a day with a fluoride toothpaste and floss at least once a day. If you play sports, consider wearing a mouth guard. And don't forget to schedule regular dental exams and cleanings twice a year.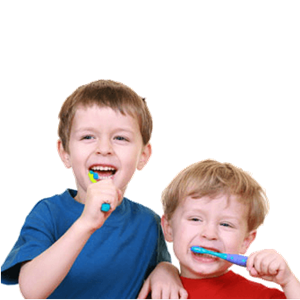 Protect Your Smile With Preventive Care
Attaining a nice smile requires more than just seeing your dental practitioner when you have an issue. Yearly dental exams at DentalWorks - Hyperlingo optimize chances for immediate detection and management for dental issues and are necessary in safeguarding your health. Schedule your family's yearly dental evaluations with Dr. Dentist Two at our City, ST facility soon!
Related Procedures
Related Posts